TheShaveDen
Greetings! Welcome to The Shave Den!
As a welcome to our new members, each month TSD and its member sponsors give new users a chance to win some great shave gear! Prizes for the September 2017 Newbies are:
The Shave Den Shop
$10 Gift Card

Ginger's Garden
$10 Gift Card

@Screwtape
Vintage DE Shave Kit


​

1. Newbies must have registered within the month of the contest.

(example; register@TSD in July, sign-up for contest in July)
only exception - Newbies who register on the last day of the month, will be allowed to enter either that month's contest or the next. Not both though.
(I'm sorry if you missed out on your drawing month, but this is the only way I can keep track of who has and has not entered a drawing already. Please don't ask to be included if you don't meet the 3 rules.)​

2. Newbies must post their interest in being entered into the drawing in this thread.

(Your name will go on the list when you express your interest, but that does NOT mean you are in the drawing. You still must meet the post requirement, see rule #3.)​

3. Newbies must make 15 posts within the month they are eligible for this give-away. 4. Please, no chatter in this thread.

You can ask questions in another thread, or via private message.

Thank you!


All Newbies are welcome to sign up, prizes will ship worldwide.

The contest closes at 12:00am USA Eastern Time zone on the 1st day of the next month.

The winning member username will be drawn using the List randomizer

here

.

TSD is not responsible for delivery of prizes other than those provided by TSD Store.

It will be the contest entrants responsibility to check back in this thread to see if you won, no PM will be sent to the winner.

Any prizes not claimed within 30 days will be forfeited!

Thank you for joining TSD!

Entrants (

pending eligibility verification)

:

Cybermonkey

Bob Palmer enzo61 dragonhf

This is the first in a series of non-shaving related articles I plan to write.
My fiance gets a gift from her work each year, and this year the value of the gift was set at $80. She decided we needed new glasses, and set me the task of researching glasses that would be both elegant and durable...and under $80.
Simple, right? Hardly. I like classic, vintage stuff...she likes elegant modern stuff. I figured if there was a happy compromise, it would be found in France. After typing "Best drinking glass" into Google's sorcerous search engine (and muttering a prayer under my breath to appease the internet demons) Google showed me the Duralex Picardie glasses.
And Mr. Bond drinking out of one. Yes, that Mr. Bond. Classy, right? (Skyfall, scorpion bar scene and in the picture below, Quantum of Solace).
Interesting, I thought. A heavy base with tapered octagonal sides that flare out to a thin rim. Rustic, charming, and yet elegant. Also made of tempered glass as well, which is 2.5 times tougher than normal glass. A quick perusal of various articles on the interwebs and more importantly, Amazon reviews from people not trying to make a quick buck from blogs, and it was decided. She would get these glasses in a variety of sizes.
History
:
Duralex (from the Latin phrase 'Dura Lex, Sed Lex,' 'The Law is Harsh, but It is the Law.' Perhaps a reference to gravity?) introduced the Picardie line of glassware in the 1930's, where it quickly became the dominant glass in cafés, schools, and homes. Durable, cheap and stackable, it remained a French icon until the 1960's, when it became popular in the U.K. and thereafter American resturants in the '70's and '80's.
Failure to adjust to cheap competition from China and Indonesia and mismanagement caused the company to go into bankruptcy in 2005. As the remaining stocks of Duralex Picardie dwindled, it's reputation grew, along with it's value on the secondary market. At one time, 4 glasses would sell for $100 on eBay.
After a court ordered restructuring, Duralex resumed production a few years later, much to the relief of Duralex fans everywhere.
According to Amazon reviewers, the current production glasses are not as high quality as the older stuff, but that is hardly unexpected. As it turns out, one of the glasses we ordered did have a tiny air bubble trapped within the glass, but they arrived well packed and unbroken.
If you've ever picked up your favorite vintage razor and marveled at the perfection of the craftsmanship, the perfect weight, and elegance of it's design, (yes, Gillette Fatboy, I'm talking about you). You will understand my feelings when I held one of these glasses in my hand for the first time. They are, without a doubt, the most perfect drinking glasses my hands have ever touched.
Here is what she ordered
(click):
Duralex Picardie 18 piece drinking glass set
Also, if you do by chance decide you need these, or anything else from Amazon, be sure to use
The Shave Den's affiliate link (click).
More info about that here:
http://theshaveden.com/forums/threads/how-to-support-tsd.29097/
I also ended up purchasing these used glasses on eBay (since Duralex no longer produces this specific design) as an engagement gift to go along with the ring, since she does enjoy the occasional glass of wine.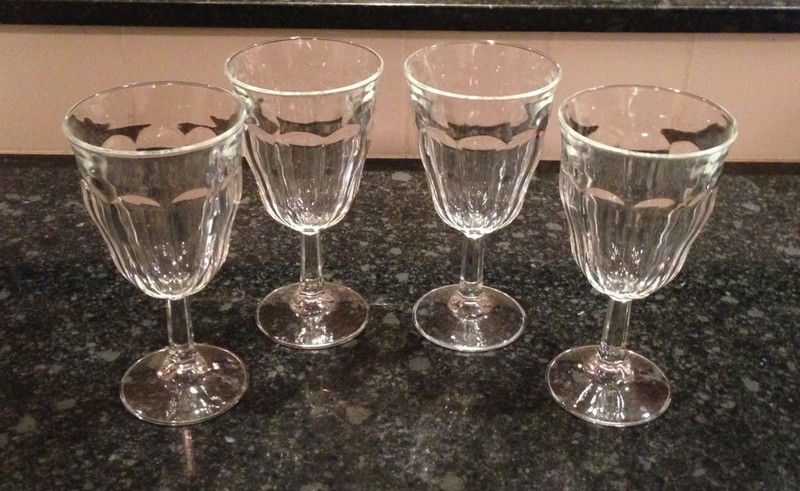 Oddly enough, the French tend to use the regular non-stemmed Picardie glasses for wine in the bistro's rather than a dedicated 'wine glass.'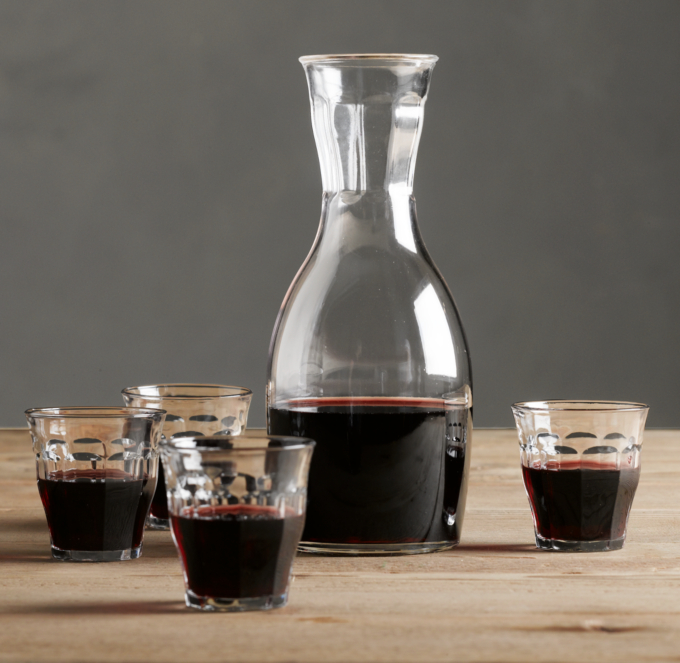 The Picardie line comes in six sizes (and two colors, though the sizes are limited in the colored glasses).
Marine:
Umber (amber):
Here are some more links for anyone interested in learning more about these glasses. (Tapatalk users, click on the phrases below to go to the links)
The original article that led me to Duralex Picardie glasses.
...